KATIE CASSIDY IN ALEX & ELI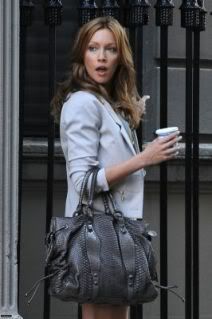 Watch out upper east siders, there's a new girl in town. Newcomer to the set, Katie Cassidy is settling in nicely and enjoying the infamous Gossip Girl closet full of fabulous clothes and accessories. Katie sexes up the suit in Alex & Eli on the set of Gossip Girl wearing the Tuxedo Jacket. This jacket retails for $265 and is available at www.inventorynyc.com.
For more information go to www.alexandeli.com.
Note from the Guru: I loved her on Melrose Place so I am looking forward to seeing her on GG!