Bath & Body Works Leads the Germ-Free Trend with Collectible PocketBac Anti-Bacterial Hand Sanitizing Gels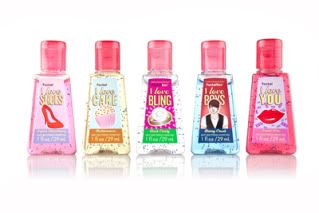 Fads come and go, but one trend is here to stay: clean hands. Thanks to Bath & Body Works, the number one anti-bacterial hand sanitizer brand, keeping hands clean is emphatically in style. Their limited-edition collections of PocketBac Hand Sanitizing Gels have inspired a trading frenzy—and countless clean hands. With limited-edition designs released for all major holidays—including Halloween, Christmas, Valentine's Day and more—Bath & Body Works is sending collectors running to update their stashes each season for germ-free hands and exclusive style.
Developed to sanitize hands on the go, the travel-ready anti-bacterial gel combines moisture-rich ingredients with delightful fragrance, leaving hands soft, scented and virtually germ-free. The formula eradicates bacteria while hydrating hands with a rich blend of honey, coconut milk, olive fruit and Tahitian Palm Milk extracts to nourish and soften.
Up next for collectible Pocketbacs are Valentine's Day "I Love… " themed hand gel sanitizers followed by St. Patrick's Day collection. The "I Love" series features playful cake, shoes, boys, and bling designs while the St. Patrick's Day brings the luck of the Irish right in the palm of your hands.  Pocketbac collectors are already poised to pounce on the new offerings as soon as they hit Bath & Body Works stores and there's no telling how long the latest Pocketbacs will stay on the shelves.
AVAILABLE JANUARY 2011: Valentine's Day "I Love…" Collection ($1.50 each)
I Love You – Sweet Pea
I Love Shoes – Stylish Strawberry
I Love Cake – Buttercream
I Love Boys – Berry Crush
I Love Bling – Rock Candy
AVAILABLE FEBRUARY 2011: St. Patrick's Day Collection Collection ($1.50 each)
Who's Your Paddy? – Apple
Kiss Me, I'm Irish – Apple
Feeling Lucky? – Apple
WHERE TO FIND: Bath & Body Works stores or www.bathandbodyworks.com. For store locations, call 1-800-756-5005.