Unique Dress to benefit Starving Artist Campaign via Delectable Food
Website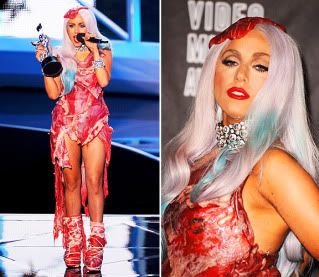 Fast rising internet food sensation PigofTheMonth.com, officially put in a bid today for Lady Gaga to wear their one of a kind Couture BBQ Rib dress to MTV's 2011 Video Music Awards to the tune of slightly over half a million dollars. The sexy couture piece is made up of bones from their mouth watering Gourmet BBQ ribs and is a vision that the company cannot wait to reveal and refer to as "Breathtaking Bone Art."
The company has teamed up with a well-known fashion designer whose designs have graced the runways of NY, London and Paris for the creative design not to be revealed until the 2011 VMA's, if Lady Gaga does accept. The campaign would be the first step in PigofTheMonth.com's "Bones for Hunger" marketing campaign where dollars are donated to starving artists for each rack of ordered and eaten bones people mail back to them. The dress is expected to launch a spectrum of look alike trends after it has been debuted and will also be auctioned off following the debut to also benefit charity.
"This is the opportunity for the dress to be viewed by millions of people at once. The amount of time and detail that has been placed into this couture piece has really been worth it and it is absolutely breathtaking. It was custom made to fit Lady Gaga's unique style." States Pigofthemonth.com Marketing Director Janice Bing. "Our new marketing campaign is unique and original and those are the qualities that Lady Gaga continuously portrays. We definitely want her associated with the project."
Lady Gaga is well known for her previous appearance at the 2010 VMA's in her unique Meat Dress. The talented artist is up for three Moonmen this year: Best Female Video for "Born This Way" and Best Art Direction and Best Choreography for "Judas."   Pigofthemonth.com's hope is that her first look this year will definitely include their dress which clocks in at a an hour to get into, close all clasps, attach bones to bosom for an elegant "How is that staying on her" appeal. Accessories to and makeup planned for the dress include actual gourmet sauces sold by PigoftheMonth.com to create a sassy, literally saucy, slightly dramatic gore feel. "We expect a slight push back from PETA States Pigofthemonth.com Marketing Director Janice Bing. "However these are ribs that were already eaten. When you do something as spectacular and breathtaking as this there will always be a few people that simply do not agree."
Pig of The Month currently ships to all areas within the United States for meats and sides, however sauces go that extra mile. Hooked consumers are able to order sauces that will travel across US lines with an international reach. Foods ordered and shipped from PigofTheMonth.com maintain optimal freshness during the transport process as they are shipped frozen, vacuum packed, and in a Styrofoam cooler that is packed with dry ice.  All food arrives with reheating instructions included. Customers are able to choose from a variety of different foods such as their 2lb baby back ribs or their mouth watering pulled pork. An assortment of sides and six lip-smacking gourmet sauces are also available to make the perfect barbecue complete. No matter where you live within the United States, Pig of the Month can be shipped to you. Sauces can also be obtained internationally.
For additional information on the VMA Bid for Gaga to wear the Couture bone dress or to place an order via Pig of The Month please visit here or call 1-877.841.7244.
About PigofTheMonth.com
Established in 2010, Ohio Based Pig of the Month is the product of a beloved family tradition and the result of one family's insanely wild goose chase for the best barbecue. Until the realization hit that they didn't have to go anywhere for the best barbecue. The Pig of The Month team had all the experience, tips, and recipes from around the country to make the best barbecue in the country, right in their house! With a smoking technique that was perfected over decades, the company ships quality BBQ products ranging from a variety of meats, sides, and sauces straight to the consumers door. For more information please visit www.pigofthemonth.com, follow them on Facebook, or join the fun on Twitter.