THE LONDON BAR AT THE LONDON NYC CELEBRATES NEW YORK FASHION WEEK
ALL MONTH DURING SEPTEMBER WITH THE LONDON RED CARPET COCKTAIL
 And on Fashion's Night Out They Will Reward You For Shopping!
The London Bar at The London NYC celebrates New York Fashion Week for the entire month of September with a specialty cocktail, The London Red Carpet!   Celebrate fashion with a delicious, chilled libation!
Inspired by the spirit of style, the colorful and luxe cocktail is a dash of sweet, a hint of tart with a kick of spice and red all over!  It is the perfect drink at the perfect place to be seen during all the excitement of Fashion Week.  
And to celebrate Fashion's Night Out on Friday, September 8th, The London Bar is offering complimentary canapés to all shopaholics who present shopping receipts totaling $250 or more from that day's shopping!   Who ever thought you would be rewarded for spending your hard earned money?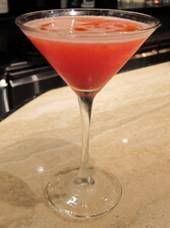 The London Red Carpet
Fresh raspberries
2.5 oz vodka
1 oz blood orange purée
½ oz lime juice
½ oz agave nectar
Muddle raspberries in a shaker.  Add remaining ingredients, shake and serve in a martini glass. Garnish with Thai chili pepper-infused extra virgin olive oil.
An intimate oasis in bustling midtown, The London NYC is located at 151 West 54th St., between 6th & 7th Ave.   The London NYC is recognized as one of Travel + Leisure Magazine's 2011 World's Best Hotels. For more information on The London NYC visit www.thelondonnyc.com. Find us on Facebook at www.facebook.com/thelondonnyc and Twitter @TheLondonNYC.