The NYLA Report Celebrates Two Year Anniversary
with Site Relaunch & Online Boutique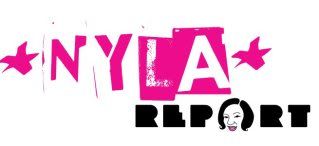 LOS ANGELES – January 9, 2012 ­­– After a much needed blog vacay during the holidays, The NYLA (ni*lah) Report is back! Celebrating its second birthday today, NYLA launches a revamped (and much cooler) site. Sure to deliver the latest in fashion, pop culture, and celebrity juice, the site will feature a newer, sleeker and more user-friendly interface.
"Amazing things are bound to happen in 2012. I'm excited about NYLA's relaunch and online boutique debut," said NYLA editor-in-chief Asia Willis. She also added, "We have such a dedicated fan base from across the globe and this is our way of simply saying thank you for following us every step of the way for the last two years."
On top of the revamped site, NYLA was exclusively selected to launch an online boutique through a partnership with StyleOwner called NYLA's Closet. NYLA's Closet will showcase ready-to-wear clothes and accessories that Willis describes as "New York street meets LA beach" and will feature some of the hottest labels from Rachel Zoe, House of Harlow 1960 and Rebecca Minkoff.
NYLA is Los Angeles-based blog, focused on delivering exciting fashion news, as the site has covered Mercedes-Benz Fashion Week in New York for five consecutive seasons and has featured top notch celeb interviews with – Kimora Lee Simmons, Tim Gunn, Lauren Conrad and Russell Simmons. NYLA has been featured on numerous media platforms including popular fashion website Fashionista.com and television news station, WJBK Fox 2 News Detroit.
About The NYLA Report
The NYLA Report (ni*lah) is a daily fix of pop culture, fashion, music and up-to-the-minute celeb news from New York to Los Angeles and everything in between. Founded by Los Angeles-based blogger Asia Willis in January 2010, NYLA dishes on the latest in Fashion Week coverage, red carpet highlights, buzzworthy music videos and celeb interviews. NYLA offers the fashion obsessed a user-friendly interface to guarantee immediate access to the latest fashion and celebrity coverage. For more info, please stalk us on Facebook and Twitter.