To maintain that youthful glow, we need to provide our skin with optimal hydration…from the inside-out. Christina Cosmeceutical's Moisture Fusion, available as a serum and a cream, is a tri-peptide concentrate that boosts the natural production of Hyaluronic Acid that is lost as we age. Hyaluronic Acid binds water in the skin and prevents trans epidermal water loss [TEWL] to help strengthen the skin's natural moisture barrier for a dewy complexion. Formulated with an anti-oxidant peptide, Moisture Fusion enhances skin's elasticity while minimizing environmental skin stressors. The result is improved texture, increased volume and the "Look" of Youthful Skin.
Moisture Fusion Serum ($105) is a light-weight, easily absorbed serum that accelerates the natural production of Hyaluronic Acid within the skin. Combined peptides improve skin's elasticity and volume by repairing environmental damage and re-building elastin synthesis.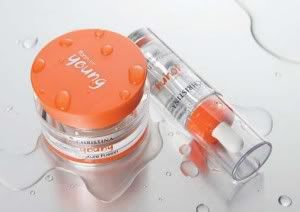 Moisture Fusion Cream ($120) is a super concentrated light weight moisturizer for those with very dehydrated skin. Marine based anti-oxidant peptides reinforces skin's immune defense, soothes and reduces irritation while maximizing the skin's ability to retain moisture resulting in visibly minimized fine lines and wrinkles.
Both products can be used alone or together (serum first!) and may be used by all ages and skin concerns to re-hydrate and repair irritated skin.
The Moisture Fusion Serum and Moisture Fusion Cream are also available as a kit for $200.
Christina Cosmeceuticals is available at top salons and spas across the US including Spa Shiki, Skincare by Alana, Europa Salon & Spa and U Mode Salon. For additional information, visit http://www.christina-cosmeceuticals.com.