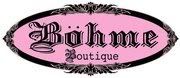 Now, this boutique is right up my alley. As you know, I am all about expressing yourself. Fashion should be a freedom of expression. You should express your individuality, your personality, or your mood. Bohme boutique also believes that you should stay true to yourself.
Their motto is:
Originality is an ever diminishing commodity because it is constantly stifled by the dictates of pop culture. At Bohme, we simply believe you should do your own thing.Be true to your inner creativity and those whimsical moments of self-expression—let them out for the world to behold. Let your sexy, artistic spirit roam wild and free.

How we choose to adorn ourselves is a daily opportunity to express our own unique brand of creativity. It's a way of telling the world how you see yourself, and the world is compelled to respond in kind.

We're here to help you honor your sacred self-expression.
Bohme first opened their doors in 2008 at the University Mall in Orem, Utah. Their stores include designer denim, tops, jackets, dresses, accessories, and more. If you want to experience Bohme, check out their stores at the following locations: Utah, Idaho, Arizona, Nevada, and South Dakota.
If you don't live in any of these states, you can still check out their online boutique. Visit Bohme and sign up for updates and promotions. Plus, you'll be one of the first to know when the site reopens. It's coming soon, so stay tuned!