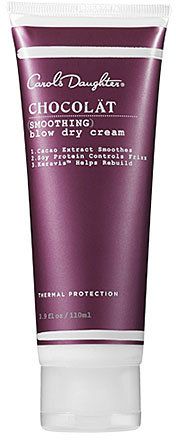 While I was at the mall this past weekend, I had to pick up some concealer (and a pack of bow ties I didn't know I needed) at Sephora. Thanks to my Beauty Awards card, I received a free sample for Carol's Daughter Chocolät smoothing blow dry cream.
I was kind of excited because I've tried Carol's Daughter products in the past. Even though I'm a Wen girl, I like the fact that her products are free of sulfates and parabens. Best of all, they're geared towards African American hair.
As you all know, it's been very hot on the East coast. I gave it a try a couple of times this week. All you need a dime sized amount on damp or partially dry hair. With each pass of the blow dryer, my hair became instantly smooth. I couldn't wait to flat iron my hair to see the finished result.
My hair looks as if I had a blow out or a relaxer treatment. It's so smooth, shiny, and manageable. With the extreme heat in New England, my hair hasn't frizzed or poofed out one bit. This is now my styling product. Even Wen's styling products haven't smoothed my hair like the Chocolat smoothing blow dry cream has.
I'll definitely buy a bigger size at Sephora once I run out. I wish I could use it to air dry my hair curly. It could work though. You never know! If you're curious in buying this product, it's available at Sephora for $22. Not a bad deal since you only use a dime-sized amount. This product will last you for months.