I was lucky enough to get the derma e® sample pack. (I'll provide you with information later in the article on how to get your own derma e® sample pack.) Included in the pack are packets of derma e® samples. Samples include moisturizers, cleansers, gels, and exfoliators. I was excited to give some of the products a try.
A big plus is that their line is made with natural and organic ingredients. derma e® is a pioneer in the development of natural antioxidant formulations and is the leading innovator of natural topical antioxidant moisturizers and anti-aging skin care products to increase hydration to your skin, help reduce the damaging effects of aging, and improve your skin's texture and appearance. derma e® is also recognized as the expert in products to care for the whole body; especially treatment products for problematic skin conditions. derma e® has the natural answers to scars, cracked skin, spider veins, bruises, blemishes, age and liver spots, to reduce wrinkles, fine lines, brown spots, and other signs of aging, for symptoms of psoriasis, eczema and dermatitis. derma e is dedicated to helping people with dry skin, flaky skin, itching skin or problem skin conditions.
I gave a few of their samples a try. I have nothing, but positive things to say about each one. None of their products broke out or harm my skin. They have different lines for different skin conditions.
Very Clear Problem Skin Cleanser
This gentle cleanser removes oil and debris, unclogs pores, and prevents future breakouts. Was this cleanser moisturizing! I love the way that it made my skin look and feel. I wish I could have more of this cleanser.
Microdermabrasion Scrub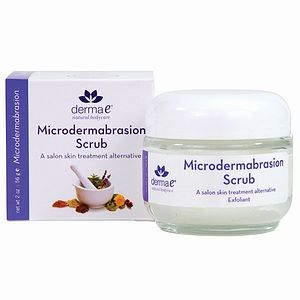 This microdermabrasion scrub improves the look and feel of your skin. It is made of Dead Sea salt and silica-rich volcanic sand, which both remove dead skin cells. It diminishes the signs of aging and blemishes. I loved the cooling sensation it left on my skin. Perfect for those hot summer days!
 Tea Tree and E Antiseptic Creme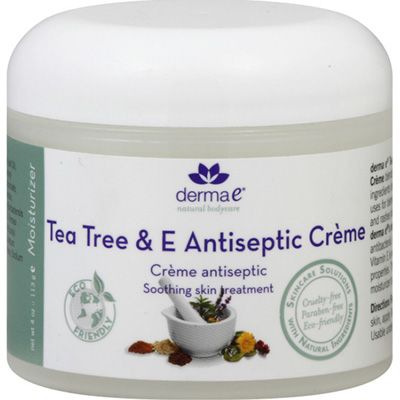 This creme is ideal for your face or body. It contains 5% Tea Tree Oil which treats blemishes, fungal infections, sunburns, dry skin, rashes, bug bites, and itchy dry skin. Once you apply it, the creme instantly absorbs into your skin. You won't have to wait minutes before dressing. This also leaves a wonderful cooling sensation on the skin.
Now, you can get your own sample pack.
Sampler for your friends – $4.95 for shipping only.
If you love your sampler – your friends and followers can get one of their own on the derma e® web site.
Free shipping offer: Finally, until July 7th, you and your followers can enjoy free shipping on any purchase on the derma e® web site www.dermae.com that are over $30.00! This is a great offer. U.S. shipping only, no other coupons or special offers apply.
Please use coupon code: MWKS12 to take off the shipping price.
Offer expires 7/7/12
About derma e®
derma e® prides itself by supporting non-profit organizations like World Wildlife Foundation, The Special Olympics and more. Always looking for ways to give back to their local and worldwide communities. derma e®  is also passionate about remaining cruelty-free, as well as gluten free and vegan friendly! They provide products rich in natural ingredients to mostly women between the ages of 25-54 who are active and careful about what they put in their bodies and on their skin.