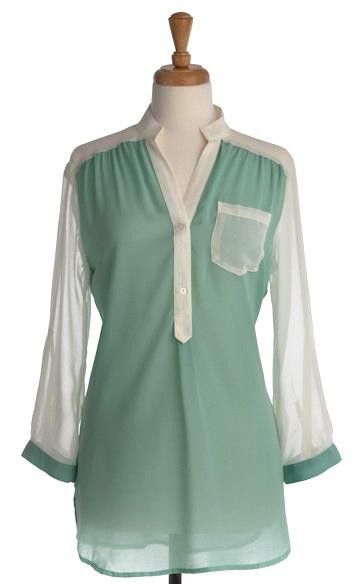 I received this wonderful sheer mint tunic top from Reverent Style. For just $36, it has many uses. You can wear it anytime of the year. It's light enough for those hot summer days, or perfect enough to layer with in the fall. Dress this tunic up or down. Wear it with creme dress pants for the office. It also looks great with a pair of wide-leg boot cut jeans for a night out on the town. For those hot summer days, wear this tunic over city shorts or over a bathing suit. There's so many ways to incorporate it into your wardrobe.
Reverent Style is an online boutique. They sell trendy and unique clothing for young women, such as my little gurus. They get their clothing from designers from all over the globe. Even though it's designer clothing, doesn't mean you pay designer prices. Their clothes are affordable enough that you won't break the bank. Just like with motto of the Fashion Guru Blog, Reverent Style's motto is for you to express your true and individual self. More importantly, their clothes are well-made and fit as if they're custom-made for you.
About Reverent Style:
Reverent Style is the newest source for online fashion for the modern girl.  We have a collection of brands that cater to women who are independent thinking trendsetters, with a universal appreciation for all things fashion. At Reverent Style we are driven to only feature the best fashion and accessories in the young contemporary market at an affordable price. Our selection is inspired by elements from around the globe and is continuously at the forefront of fashion's latest trends for young women. (All items are under $100).
Our vision is simple: We are enablers for young women to express their unique and independent self through personal style. We understand the effect and impact of one article of clothing and how it can transform a mood or one's confidence. We assure you that the perfect piece of clothing you need is just a click away!
Link to www.reverentstyle.com.
Current Designers:
Ya Los Angeles
Lush
Moon Collection
Everly Clothing
October Sky
C. Luce