Look and perform your best with Champneys Body Glow!  Olympians like Gail Emms, Chemmy Alcott and Sally Gunnell have all visited the prestigious UK Champneys spas, which brought their luxurious products stateside in March!  Whether you want to soothe sore muscles or score soft skin, these non-abrasive exfoliators will leave your skin polished and radiant.
"An invigorating body scrub, with the right application, can help to stimulate dull, lifeless skin and leave your skin feeling smooth and conditioned.  Plus, it's a great way to invigorate the senses and refresh the body to feel revitalized," Beauty Expert and Champneys Spa Director Jo Parker says.
Oriental Opulence Body Glow
$11.99; Target.com
Inspired by traditional Oriental beauty rituals, this sensual body polish will leave your skin feeling soft, smooth and glowing. Rice Bran Wax and Sea Salt gently exfoliate your skin, while nourishing Honey, Coconut Oil and Sesame Seed Oil moisturise and comfort your skin. The Oriental blend of aromatic Ylang Ylang, calming Sandalwood and exotic Patchouli essential oils encourages feelings of wellbeing and tranquility.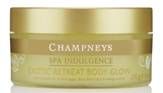 Exotic Retreat Body Glow
$11.99; Target.com
An exfoliating blend with White Bora Bora Sand, Brown Sugar, Mango Butter and Coconut Oil to help leave your skin soft.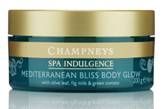 Mediterranean Bliss Body Glow
$11.99; Target.com
A gorgeous scrub blended with Olive Oil and Olive Stone Granules that leave skin feeling polished and moisturized. A delightful mix of Coconut Oil and Shea Butter leaves skin soft, radiant and sensual.
About Champneys
A seasoned expert in tranquility, Champneys is making it possible for people across the U.S. to experience the luxury of total relaxation in the comfort of their own home, every day.
London's top celebrities – Princess Diana, Daniel Craig, David Beckham, Kate Moss and Simon Cowell – have visited the spa and know the products.  Now, consumers will be able to get these pampering products for an affordable price, starting at just $7.99
Launched in partnership with Boots, a premier UK health and beauty brand introduced to the U.S. in 2004, Champneys products will be available in Target stores nationwide, and online at Target.com andShopBootsUSA.com, starting March 2012. Prices range from $7.99 to $12.99.